Vishal Kant Bajpai, BSc, JD

Acc. Med. (Fam) & Acc. Arb. (Fam)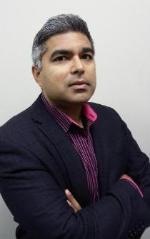 Vishal Bajpai founded our firm in August 2008. In addition to his law degree, Vishal holds a Bachelor of Science from Simon Fraser University majoring in Biology with a concentration in Cell and Molecular Biology. While at SFU and later at the University of Victoria (Faculty of Law), Vishal held positions on the Universities' childcare boards. At SFU he was a parent board member and the Chair of the board at UVic. He also held positions on SFU's Student Disciplinary Board and the Residence Appeal Board. Vishal was called to the Bar of British Columbia in July 2005 after articling under the guidance of Sidney S Shook, QC at the law firm of Shook Wickham Bishop & Field in Campbell River. While at SWB&F, as an articled student and later as an associate, Vishal practiced primarily personal injury and family law. At that time he was also an agent of the then Department of Justice and appeared on behalf of the Federal Crown on several occasions dealing with drug related offences and fisheries matters. Upon leaving SWB&F, Vishal explored his interest in corporate law first at a law firm in Maple Ridge and later at a downtown Vancouver law firm where his focus was in securities law. Vishal's current practice focuses on personal injury litigation, family, corporate law and real estate.
Vishal is a member in good standing with the Law Society of British Columbia and the Trial Lawyers Association of British Columbia. He has also been a past Captain of the Access to Justice – North Island Advocacy Coalition.
Vishal is married and has two children. He enjoys spending time with his family and volunteers in activities which his children take part in. Vishal has coached minor league baseball teams in both Campbell River and Mission. He has also volunteered with and continues to volunteer with Access Pro Bono and its predecessor to provide pro bono legal services to the residents of British Columbia.
Education and Training:
Bachelor of Science, Cell and Molecular Biology - Simon Fraser University (2000)
Juris Doctor - University of Victoria (2003)
Family Law Arbitration (2013)
Family Violence Screening Training for Dispute Resolution Professionals (2013)
Awards and Recognitions:
MacIsaac & Company Community Law and Legal Clinic Award (2004)
*The opinions expressed by Mr Bajpai are solely his and do not necessarily reflect the opinions of Bajpai Law Corporation.